STEAM JACKETED KETTLE
125 gallon, tilt discharge, food grade stainless steel...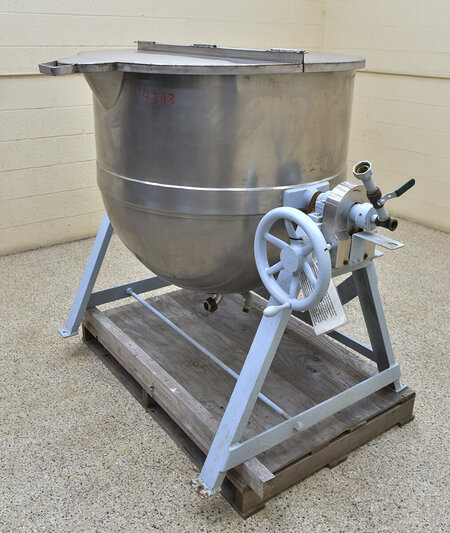 Lee 125 gallon capacity, 40 psi steam-jacketed cooking kettle, tilt discharge, food grade, stainless steel, with hinged lid.


FEATURES:
38 inch diameter by 34.5 inch deep hemispherical bottom vessel.


Manufacturer tagged and U-stamped for 40 psi working pressure.


Manual crank tilt to dump, with pouring lip.


Hinged stainless steel cover.


1.25 inch diameter center bottom outlet.


Food grade stainless steel jacketed kettle with painted steel frame.

As of this writing, this cooker-mixer kettle is in stock at ALARD, in GOOD condition and available for timely shipment.

CALL 315-589-4511 to confirm availability and discuss your particular food process cooking kettle needs.

ALARD item reference #: Y4393