GUMP PRESSURE SCREENER, ROUND, 48 inch diameter,
food grade stainless steel.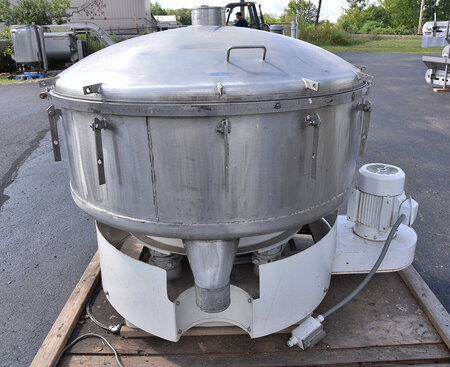 .
The B.F. Gump Model CP-43 pneumatic inline pressure sifter uses true rotary motion on a horizontal plane and air pressure to produce maximum sifting efficiency / output per square foot of screen area. The motion also creates stratification allowing the finest particles to settle quickly to the bottom. Designed for the bakery and milling industry including flour, starch, sugar & spices but also has non-food applications such as abrasives, plastics, rubber processing, chemical resins and more...


FEATURES:

Up to 40,000 lbs per hour on flour with 40 mesh screens.


Totally closed system for zero contamination.


Dust free operation for increased safety.


Operates under positive or negative atmospheric pressure.


Clamp on dome top with 5.5 inch diameter center infeed.


15 psi maximum.


Two (2) 2 inch by 6 inch bottom side discharges.


Able to direct convey into bulk packaging, storage bins and/or blower systems.


2HP belt drive motor.


Food grade USDA sanitary stainless steel food contact surfaces.


Painted steel base frame.


Includes 46 inch high painted steel pedestal riser stand.


208/230/460 volt 3 phase electrical input.


As of this writing, this 4 foot diameter in-line pressure sifter is in stock at ALARD, in GOOD CONDITION and available for timely shipment.

CALL 315-589-4511 to confirm availability and discuss your food process size grading, solids separation, sifting and/or screening needs.

ALARD item reference #: Y4439