HOBART MODEL 6430
ABRASIVE BATCH VEGETABLE PEELER.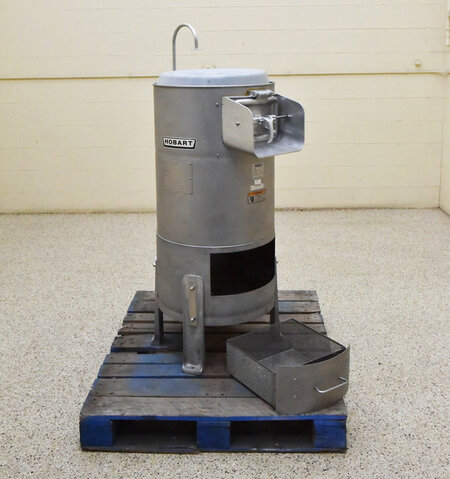 Hobart batch potato peeler / abrasive batch root-crop peeling machine, manufacturer recommended for peeling AND washing potatoes, carrots, turnips or other root vegetables. Peeling action takes place at the bottom and sides of the machine which offers low pressure peeling action, reduced noise & minimal water consumption.

FEATURES:

Manufacturer rated for up to 30 pounds (13.6 kg) per batch capacity.


Peeling chamber measures 20 inch diameter by 9 inch deep with a rotating abrasive bottom disc and removable abrasive plastic sides.


Approximate 50 inch high infeed, 37 inch high discharge.


Removable plastic top cover.


Water spray assists with washing and removing peels.


Manual 11 inch wide side discharge chute.


Peel trap drawer perforated to allow water to drain off via a bottom outlet with a copper drain pipe exiting to the rear and at a right angle.


Equipped with start/stop controls and 5 minute timer.


All food grade sanitary stainless steel construction.



110 volt single phase (household current) electrical input.

As of this writing, this peeler is in stock at ALARD, in EXCELLENT operational, mechanical, electrical & cosmetic condition, available for immediate shipment.

CALL 315-589-4511 to confirm availability and discuss your food processing needs


ALARD item reference #: Y4849