FOOD PROCESS METAL DETECTOR with BELT CONVEYOR,
14x6 opening, food grade, stainless steel.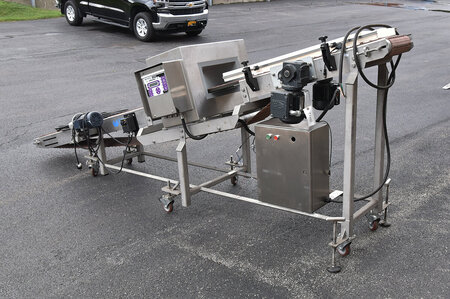 A Fortress Phantom stainless steel belt-transfer metal detector with a 5.75 inch high by 14 inch wide USABLE aperture opening, on a stainless steel conveyor, for product inspection of bagged or boxed products inline after a vertical form-fill-seal machine (VFFS) bagger or other packaging machine. Currently configured with a lowerating decline conveyor belt, to receive the packages from a high discharge and carry them to a lower level for further downstream handling. Available as configured, or could be reconfigured for horizontal,or elevating conveyor configuration.
FEATURES:

5.75 inch high by 14 inch wide USABLE detector aperture.


Stainless steel detection head.


All stainless steel conveyor frame.


Metal detector conveyor belt in two-sections, measures 10 inch wide by 12 feet overall length.



2 foot long ribbed rubber infeed conveyor section with 3 phase variable speed drive, can be run slower than the main conveyor, in order to increase spacing between products so they go through the metal detector head one at a time.



7.5 inch infeed height, 48 inch high infeed, 8.5 inch discharge height as configured.


Stainless steel control box with 3-phase input variable frequency drive controls for the two conveyor belt drives.

As of this writing, this metal detection system is in stock at Alard in operable condition available for timely shipment as configured, or could be reconfigured by our shop to set the conveyor to run level, or reconfigure the machine as an elevating conveyor configuration.

CALL ALARD at 315-589-4511 to confirm current availability and discuss your particular food process metal detection needs.

ALARD item reference #: Y4952