VEGETABLE TUMBLE WASHER REEL / DEWATERING DRUM, stainless steel...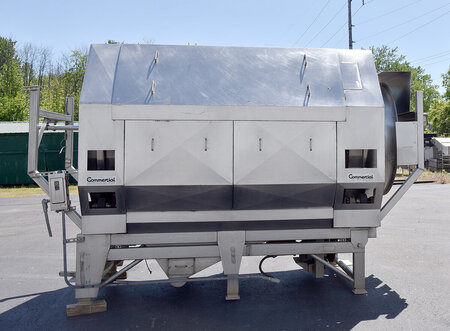 A Commercial Model 8753 rotary washer / drum washer / screening reel, for dewatering, size grading, fines removal, scalping, and washing of root crop vegetables, liquid-solids separation and water recovery from sliced, diced, or fresh-cut / pre-cut food products such as beets, carrots, horseradish, potatoes, peppers, radishes, sweet potatoes and more...



FEATURES:


Eight (8) 6 inch high flights inside of the reel to promote product tumbling.


Suitable for use as a DRY DIRT REEL or WASH REEL -- equipped with spray bar for washing/rinsing application.


40 inch diameter infeed at 54 inch high with an additional 12 inches of pitched adjustment.


Full bottom pan with cleanouts and 8 inch diameter bottom side outlet.


Food grade sanitary stainless steel construction.


5 HP chain drive motor.


208 / 230 / 460 volt 3 phase electrical input.



Manufacturer rated for 20 tons of peppers per hour.

As of this writing, this tumble washer is in stock at ALARD, in VERY GOOD condition and available for timely shipment.

CALL 315-589-4511 to confirm availability and discuss your particular root crop vegetable washing equipment needs.

ALARD item reference #: Y4653