SINGLE PISTON VOLUMETRIC FILLER / DEPOSITOR.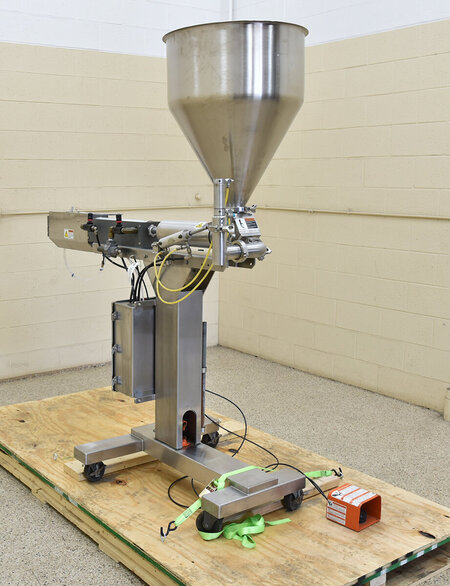 An IWKA Model DF-20 pneumatically operated food grade stainless steel single piston filling machine for filling containers or use as an ingredient depositor for adding sauces or other liquid food ingredients to other food products. Fills viscous liquids such as sauces, creams, pastes, and oils, including products with particulate such as salsa.


FEATURES:

23 inch diameter by 26 inch high (approximately 20 gallon) infeed hopper with 3 inch triclamp outlet.


Pneumatically powered piston, in a 3.75 inch diameter by 14 inch long cylinder, crank adjustable for up to 68 ounces nominal fill per stroke.


2 inch diameter discharge.


Food grade sanitary stainless steel product contacts with pedestal frame and adjustable height.


Equipped with a remote foot switch for semi-automatic operation.


220 volt single phase electrical input.


Requires compressed air input for operation.

As of this writing, this piston filler is in stock at ALARD, in EXCELLENT condition, available for timely shipment.

CALL 315-589-4511 to confirm availability and discuss your food processing needs.

ALARD item reference #: Y5066