URSCHEL DIVERSACUT 2110
HIGH CAPACITY DICER, DICING MACHINE...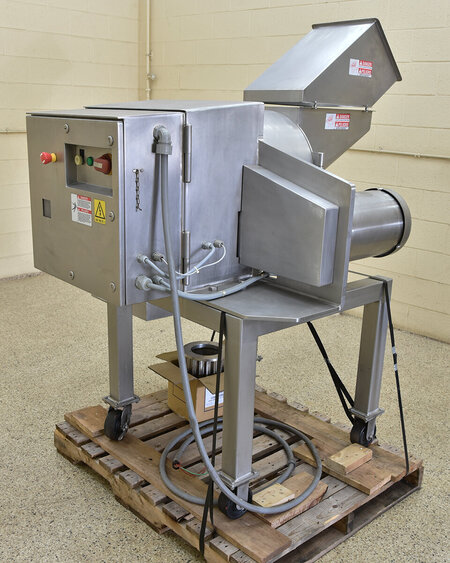 An Urschel Model 2110 DC dicer is the largest machine in the Diversacut line, specifically designed to accept large infeed products up to 10 inches long, providing similarly long cuts such as for vegetable noodles. A versatile, tons-per-hour industrial food process cutting machine / dicer / slicer / julienne cutter, which uniformly cuts flat or crinkle cut dices, cubes, strips / strip cuts, french fry cuts, vegetable noodle cuts, and slices from a wide variety of food products at high production capacities with speeds dependent on materials, application and machine configuration. This dicer is designed with precise cut tolerances with slice adjustment / lock-down features which allow fine-tuning and ultimate precision.


MANUFACTURER SPECIFICATIONS:

Slice shell: 1/16 inch to 1 inch (1.6 to 25.4 mm) -- knob adjustable.


Circular knife: 1/8 to 3 inch (3.2 to 76.2 mm) -- spindle with knives & spacers.


Crosscut knife -- change part:



Flat cut: 3/32 to 1.5 inch (2.4 to 38.1 mm)


Crinkle Cut: 9/32 to .583 inch (7.1 to 1438 mm) with .076 inch depth.


"Deep Crinkle Cut": 3/8 to 1/2 inch (9.5 to 12.7 mm) with either .125 or .145 depth.


V-cuts: 5/16 to 1/2 inch (7.9 to 12.7 mm).



Flat or krinkle-cut cutting parts can be used in various combinations for cubes, strip cuts, rectangular cuts, julienne cuts, slices, flat or krinkle-cut french fry strips,. Works as a one-dimensional, two-dimensional or three-dimensional cutter. CALL 315-589-4511 to discuss YOUR particular food process cutting machine requirements.


Manufacturer rated for input size up to 10 inches (254mm) in any dimension which reduces need to pre-cut product; --but existing impeller has (8) paddles on 5.5 inch centers, so practical product input dimensions would be 10 inches long by 5 inches in diameter. CALL 315-589-4511 to discuss your particular food process cutting machine requirements.


This cutter is manufacturer rated for a wide range of fruit, vegetable, and meat cutting applications, including flat or crinkle cut french fries, ham, fish, breads, cookie and candy granulations, strawberries, carrots, tomatoes, green peppers, ginger, kale, zucchini, sweet potatoes, carrots, plus many more!


FEATURES:
Eight (8) paddle impeller for 5.5 inch maximum product input.


Factory stainless steel operator control panel with safety interlock system.


Lube cluster for ease of maintenance.


All sanitary food grade construction including frame, guards, shrouds, infeed hopper and discharge chute.


208 / 230 volt 3 phase electrical input.

As of this writing, this Urschel Diversacut 2110 dicer is in stock at ALARD, in EXCELLENT operational, mechanical, electrical & cosmetic condition, available for timely shipment.

CALL 315-589-4511 to confirm availability and discuss your particular food process cutting machine requirements.

ALARD item reference #: Y5082