WAUKESHA Model 2 LAB-SIZE
SANITARY POSITIVE DISPLACEMENT PUMP
with drive and base.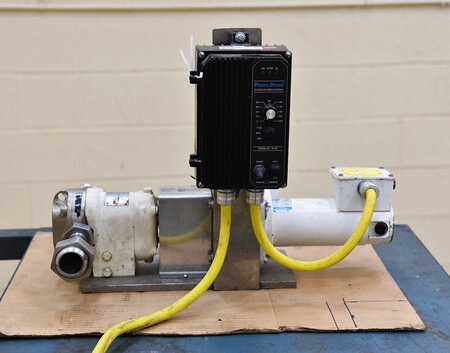 A Waukesha Cherry-Burrell sanitary positive displacement Lobe pump, manufacturer recommended for pumping viscous fluids, slurries, or particulate bearing liquids in industrial food, dairy, canning, bakery, beverage and pharmaceutical processing applications. Complete with integrated drive and base.



FEATURES:

One half-inch (0.5 inch) inlet and outlet ports with threaded connections in a horizontal flow orientation.


USDA / 3A dairy sanitary food grade pump with a T316 stainless steel body, cover and shaft, with easy disassembly for cleaning and sanitation.


Manufacturer rated for 227 RPM and nominal capacity to 1 gallon per minute throughput (depending on product viscosity and head pressure).


Mounted on stainless steel base.


Coupled to a 1/4HP 110 volt single phase (household electric) with variable speed control.

As of this writing, this Waukesha Lobe Pump is in stock at ALARD, in VERY GOOD fully operational condition, available for immediate shipment.

CALL 315-589-4511 to confirm availability and discuss your food handling needs.

ALARD item reference #: Y4457