CAN UNLOADER for ROUND VERTICAL RETORT BASKETS.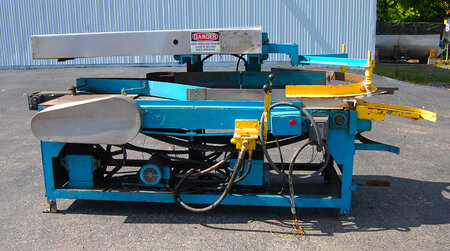 The Busse Hydraulic Retort Crate UNloader is a semi-automatic machine for unloading round metal or glass containers at a rate of up to 2 layers per minute from round, loose bottom, vertical retort crates.


OPERATION:
Round vertical retort crate is moved into position.


"In floor" hydraulic ram jack raises the load until the bottom of the top container is slightly above the table top.


Sweep arm unloads one (1) layer of containers onto the conveyor where they transition to a single file discharge lane.


Separator sheet is removed to expose the next layer of containers.


Operator extends sweep arm back to the "out" position and basket is raised to next layer.



Process is repeated until the crate is emptied.

FEATURING:


Suitable for 36 inch diameter round, loose bottom, retort crate/basket.


Five (5) 6 inch wide table top chain take away conveyor belts with powered roller single filing mechanism.


Includes "in floor" hydraulic ram jack for lifting & lowering retort baskets.


36 inch working height.


Lube cluster for ease of maintenance.


Painted mild steel construction.


2HP drive chain drive motor.


Self-contained 2HP hydraulic power pack with operator controls for sweep arm and ram jack.


208 / 230 / 460 volt 3-phase electrical input?



Vertical retort baskets and Carts not included but available separately.

As of this writing, this Busse can unloader is in stock at ALARD, in GOOD condition and available for timely shipment.

CALL 315-589-4511 to confirm availability and discuss your particular industrial food canning application.


ALARD item reference. #: Y2413