Food Grade
FRUIT AND VEGETABLE INSPECTION / TRIM CONVEYOR,
12x24 six person, stainless steel...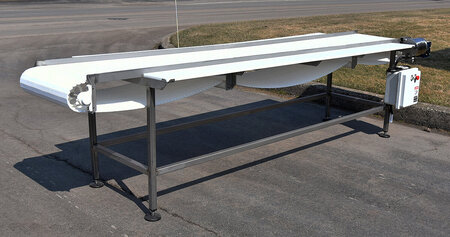 A single level conveyorized food process inspection table with a 12 foot long by 24 inch wide conveyor belt running between 9 foot long UHMW plastic work surfaces. Ideal as a trim line for fruit and vegetable inspection, trimming, coring, sorting, and rework, sized for six to eight work-stations.


FEATURING:

12 foot long by 24 wide solid interlocking plastic chain type conveyor belt running between 1 3/8 inch high stainless steel sides.


High density plastic work shelves, 9 inches wide by 9 feet long, sized for 6 to 8 stations / workers.


Work surfaces and inspection belt at a 37 inch working height on adjustable height feet (adjustable for approximately 32 inches to 40 inches).


Gasketed fiberglass control box with on / off buttons and variable speed control adjustable for up to 45 feet per minute.


All food grade sanitary stainless steel construction.


1/2HP stainless steel shrouded washdown motor with aluminum gearbox.



110 volt single phase (household current) electrical input.

As of this writing, this NEWly fabricated inspection table conveyor is in stock at ALARD, complete, NEW, and available for immediate shipment.

CALL 315-589-4511 to confirm availability and discuss your particular food product inspection, sorting, trimming and coring needs.


ALARD item reference #: Y5221