THREE-LEVEL INSPECTION BELT /
CORING CONVEYOR / TRIM TABLE /
FRUIT and VEGETABLE PACKING CONVEYOR,
stainless steel, 8-station...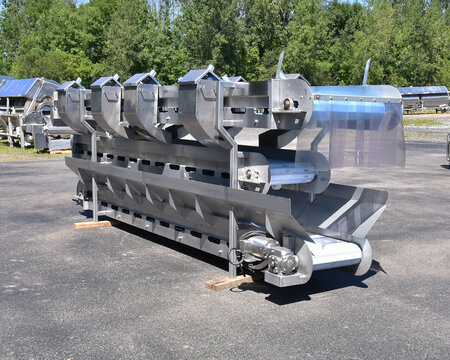 A three-conveyor inspection table, trimming line / coring line for hand-trimming, coring, sorting, grading, quality inspection and/or packing fruit & vegetable products into boxes or cases, in the context of fresh produce packing, or freshcut / pre-cut produce packaging, frozen food, canning, and other industrial food processing applications. Consists of a main inspection belt with separate underside takeaway conveyors for cores and trim / waste.

FEATURES:
24 inch wide by 15 foot 8 inch long core takeaway middle belt - runs forward.


24 inch wide by 15 foot 8 inch long waste takeaway bottom belt - runs backward.


Last used as part of an elevated eight-person trim line for broccoli.


Each work-station is equipped with a 2 inch diameter broccoli / lettuce / cabbage coring knife with trough-chute access down to the bottom waste take-away belt.


All food grade sanitary stainless steel construction.


Individual fixed speed drive stainless steel shrouded drives for each of the three (3) belt conveyors.



208/230/460 volt 3 phase electrical input.

As of this writing, this 3-belt inspection conveyor / coring line is in stock at ALARD in good condition, available for immediate shipment AS-IS...OR can be serviced by our shop prior for a timely shipment.

CALL 315-589-4511 to confirm availability and discuss your particular industrial food processing product inspection equipment needs.

ALARD item reference #:Y4899