BROWN 202 PADDLE FINISHER,
separator, pulper,
all stainless steel.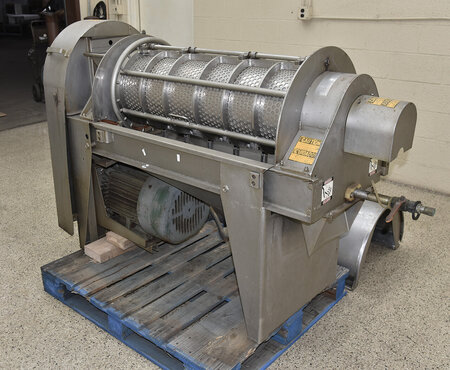 This Brown International model 202 PADDLE FINISHER, pulper, refiner, separator is manufacturer recommended for extracting juices and purees from fruits & vegetables, and separate fruit flesh (pulp) from fruit pits, seeds and/or other solids (stems, skins).


OPERATION:
This make / model pulping / finishing machine uses spinning paddles turning inside a perforated screen. The screens are interchangeable, and the perforation size of the screen determines the "finish" of (amount of pulp in) the product.


Liquids (and pulp) that pass through the screen are collected in a bottom discharge pan while the solids (pits, seeds, skins) remaining inside the screen are discharged out the end.



Manufacturer recommended for industrial capacity food processing of apricots, pumpkin & squash, pears, apples, plums, prunes, figs, citrus juices, jam, soup, peanut butter, jelly and fruit nectar.

FEATURES:

Manufacturer rated for input rates of up to 120 gallons per minute.


6 inch by 12 inch flanged infeed.


Currently configured with a fine perforated screen -- other sizes available, CALL 315-589-4511 to discuss your pulper-finisher-separator needs.


Solid paddles are individually adjustable for distance to screen.


Bottom collection pan with 2.5 inch threaded outlet.


5.5 inch by 12 inch end solids discharge. Food grade sanitary stainless steel construction.


30 HP belt drive motor.


208 / 230 / 460 volt 3 phase electrical input.


As of this writing, this paddle finisher is in stock at ALARD, in VERY GOOD condition and available for timely shipment.

CALL 315-589-4511 to confirm availability and discuss your particular pulping /finishing equipment needs.

ALARD item reference #: Y5236