LYCO ROTARY DRUM COOKER-COOLER,
60 inch diameter by 20 foot long,
12 foot cook, 8 foot cool.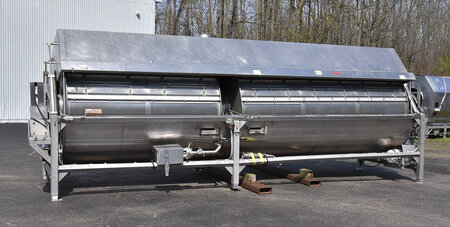 The Lyco 60 x 20 rotary drum blancher, cooker cooler, Model 8900 is manufacturer recommended for pasta, rice, dry beans, green beans, carrots, corn, mushrooms, beets, potatoes and many other vegetable and fruit products, at throughput rates depending on product density and hold times, blanches, cooks or rehydrates up to 93,000 lbs of food product per hour (at a 1 minute blanch time)...



FEATURING:
12 foot long blanching reel / cooking zone connected by a transfer section to a separate but integrated 8 foot long cool zone / cooling reel.


Food grade USDA sanitary stainless steel construction, with removable access doors in the cooking and cooling reels for cleanout.


2 way pivoting top cover with pneumatic stainless steel cylinder power lift.


Flume style infeed.


Dimpled (non-stick) stainless steel discharge chute.


Built-in CIP system including 20HP centrifugal pump for sanitation.


5HP blanch zone drive, 3HP cool zone drive.


3 phase electrical input control panel.

As of this writing this BLANCHER-COOLER combination is in stock at ALARD, in VERY GOOD condition and available for timely shipment.

CALL 315-589-4511 to confirm availability and discuss your food blanching needs.

ALARD item reference #: Y5263