WASTE-WATER RECLAIM REEL,
food grade stainless steel...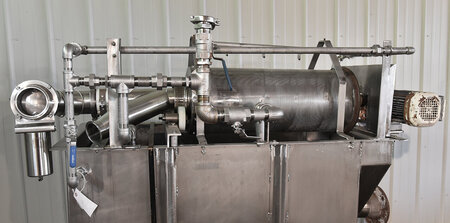 A RECLAIM REEL and TANK is an integral part of any hydro-food pumping system, for liquid-solids separation, removing primary waste such as peels, leaves, stems, seeds and other by-products from flume or wash water, for recirculation, reuse or clean disposal. The food process water recovery reel can also be used as a water reservoir for the pumping system or as part of a flume system. Commonly used as a continuous active water strainer for fresh-cut, fruit, potatoes, root crops, squash and other food applications.



FEATURES:

Single 14 inch by 31 inch long drum.



1/16 inch (1.6mm) screen perforations.


3 inch high internal spiral to provide positive discharge of solids from the scavenger reel.


Overhead spray bar header.


Open ended straight-thru infeed / discharge design.



23 inch wide by 48 inch long by 30 inch deep tank with float valve, 4 inch diameter overflow bottom outlet and 2 inch diameter threaded drain.


4 inch diameter flanged connection side bottom solids discharge with spray bar header.


All food grade stainless steel construction.



3 phase drive motor.

As of this writing, this food grade process water reclamation reel is in stock at ALARD, in GOOD condition and available for immediate shipment.

CALL 315-589-4511 to confirm availability and discuss your food process water recovery needs.

ALARD item reference #: Y4484