VISCOUS LIQUID FILLING MACHINE,




automatic, in-line, food grade, stainless steel,




gear pump filler with CONVEYOR.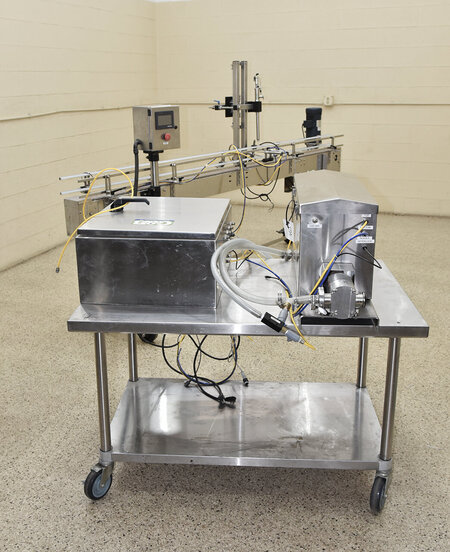 The G & B Packaging Aurora Elite Inline Automatic Filler is a food-grade sanitary stainless steel automatic liquid filling system manufacturer rated for indexing and filling containers from one ounce to three gallons, with thin to viscous liquids, including chunky, and/or light free-flowing liquids including fresh juices, sauces, personal care products, household products, automotive oil and aftermarket products, agricultural and specialty chemicals and many other applications. Manufacturer literature rates this machine as ideal for gentle, precise no-drip filling of food products such as BBQ and other sauces, jams and jellies, marinades, chunky salsa, fruit spreads, honey, vegetable oils such as olive oil, fresh juice, cider, water, condiments and many other food products.

FEATURES:


10 foot long tabletop chain CONVEYOR with 4.25 inch wide flat top conveyor chain, and adjustable guide rails suitable for containers up to 6.5 inch diameter.


The pump head is a Uniblock GP275 gear pump with high density poly gears, 316L stainless steel product contact surfaces, and 1.5 inch Tri-Clamp inlet and outlet connections.


Configured with 5/8 inch (ID) non-drip fill nozzle (other fill nozzles available from manufacturer). Call 315-589-4511 to discuss your specific container opening specs and other application requirements.


No-container-no-fill sensor.


Manufacturer rated for 1 ounce to 3 gallons with +/- .5% accuracy or better.


Color touch-screen display operator control.


Stainless steel electrical and control boxes, with PLC controller, and capable of multiple product presets.


All food grade sanitary stainless steel product contact surfaces and construction.


The pump is powered by a 1 HP drive and entire system is mounted on a portable stainless steel table.


110 volt single phase electrical input (standard household current).



Requires compressed air, 90psi, 3cfm pneumatic.

Prior owner never put into production due to lost contract. As of this writing this sauce filler, salsa filler, gear pump filler is in stock at Alard Equipment Company, in LIKE NEW condition, available for immediate shipment.

CALL 315-589-4511 to confirm availability and discuss your viscous liquid filling and packaging needs.

ALARD item referecne #: Y5291