VACUUM BATCH COOLER...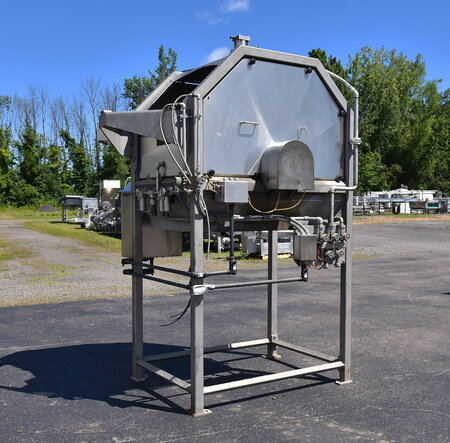 An Odenberg Model 450 VACUUM COOLING SYSTEM An Odenberg Model 450 VACUUM COOLING SYSTEM for rapid cooling of hot food products such as blanched vegetables, diced or whole, including corn cobs or potatoes, with vacuum technology...


FEATURES:


Batch vacuum cooling system available singly, or as of this writing, we have another (Alard item reference Y5306) in stock which could be combined with this machine, to provide a pair (2) of vacuum coolers set-up in a side-by-side configuration for continuous batch operation. Call 315-589-4511 to confirm availability and discuss your food process vacuum cooling need.


124 inch infeed height.


Previously tested to run blanched sliced potatoes.



<>2,500 lbs per hour output (per vessel).


Starting temperature of 140 degree F cooling to <>80 degress F.


8 minute cycle (per vessel).



CIP equipped.


Stainless steel NEMA-4 rated control panel with Allen BRadley PLC.


All food grade stainless steel construction.


230 volt 3 phase electrical input and 100 psi air requirement.


OPERATION:


Filled scale tips forward to fill vessel.


Independently mounted pneumatically actuated door closes and pulls 28 inches of vacuum.



Vacuum is released before vessel swings down to discharge onto a dewatering shaker table (not included).

As of this writing, this vacuum cooler is available from ALARD, in LIKE NEW condition with timely shipment.

CALL 315-589-4511 to confirm availability and discuss your food processing needs.

ALARD item reference #: Y4070