KRONEN LENGTH CUTTER / INCREMENT CUTTER...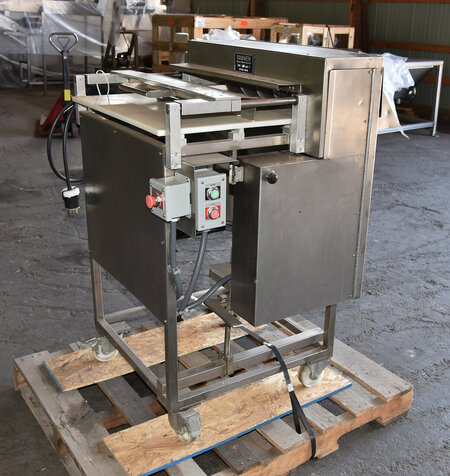 A hand-fed semi-automatic length slicer to cut oblong vegetables such as carrots to length. Slices across the narrow width dimension of the product ( e.g. to cut celery sticks).


FEATURES:

Manual product placement with safety-shrouded push feed.


UHMW table top at 40 inch working height.


Presently set to cut to 4 inch lengths but can be set for other increments.


3 inch high maximum product clearance.


Operator on/off controls with safety interlock system.


Food grade stainless steel construction including stainless steel frame, shrouds & cutting assembly.


1 HP drive motor.


208 / 230 volt 3 phase electrical input.



Previously used for cutting carrot plugs prior to making carrot sticks and cutting celery sticks.

As of this writing, this length cutter is in stock at ALARD, in VERY GOOD condition and available for timely shipment.

CALL 315-589-4511 for current availability and to discuss your industrial food process vegetable length cutting specification.

ALARD item reference #: Y4969