CORNELL 4 inch STAINLESS STEEL FOOD PUMP...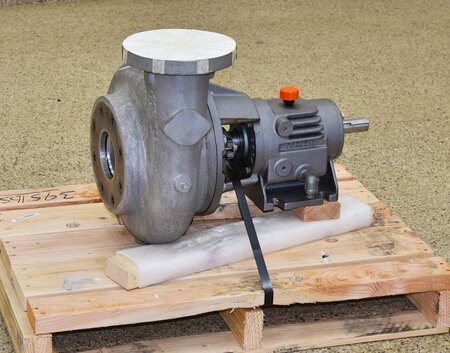 A refurbished Cornell Model 4NMP-F5K-SS, stainless steel hydro transport food pump with 4 inch inlet and outlet connections. The Cornell Hydro-Transport Food Pump is an excellent foundation for a pipe flume, open flume, wash flume, chill flume, disinfectant bath, or other water conveyor configuration for gently conveying high volumes of whole or cut food products in water at tons-per-hour volume capacities.

FEATURES:

Manufacturer rated for:



Approximately 100 to 800 gallons per minute depending on RPM and head resistance (pump curves available on request -- CALL 315-589-4511), with whole or cut food product / solids handling ability for up to 2.94 inches (74.7mm)in diameter by 4 inches (171.6mm) long.


Designed and manufactured with the sole purpose of pumping food products. Ideal for fresh produce applications such as fruit washing and packing as well as food manufacturing operations such as whole or cut food product conveying, cooling and / or sanitization in water applications.


This offset volute pump is manufacturer recommended as capable of gently conveying-in-water whole or cut food products including potatoes, French fries, potato chips, live fish, cranberries, carrots, apples, cherries, peas, broccoli, crayfish, shrimp, lettuce, green beans, nuts, peppers, olives, cucumbers, raisins, beans, corn, peaches, beets, oranges, and more (larger products may require a larger pump;--see size specification of this specific pump above). Please note we stock several sizes of Cornell food pumps - CALL 315-589-4511 to discuss your food product in water transport need in detail.



304 stainless steel pump, with 304 stainless steel single port impeller for handling whole or precut / processed foods.


304 stainless steel pump backplate for all food grade stainless steel product contacts.



The Cornell food pump has 4 inch flanged suction inlet and discharge outlet connections appropriate for a 4 inch water pipeline.

As of this writing, this used stainless steel food pump is in stock at ALARD, in EXCELLENT operational, mechanical & cosmetic condition, available for immediate shipment.

CALL 315-589-4511 to confirm availability and discuss your particular food handling needs.

ALARD item reference #: Y3807