Lyco HYDRASIVE STATIC SCREEN, 4x3
for solids-liquid separation, water recovery,
food grade, stainless steel...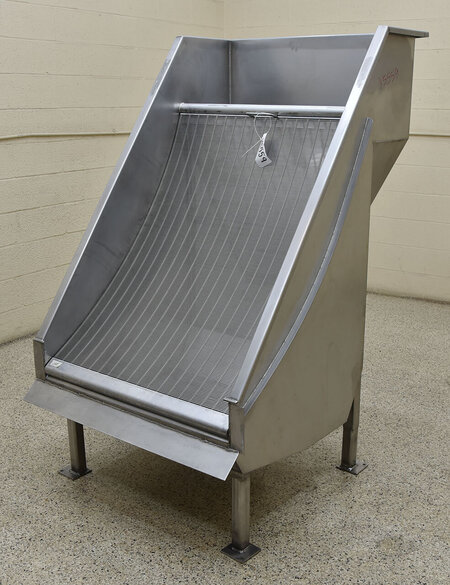 This Lyco STATIONARY SCREEN, is a liquid-solids separator screen, for waste-water recovery, water reclaim, and/or recapturing product such as peas, beans, corn, diced or chopped vegetables from washing, chilling, or rinsing flume water. The Lyco hydrosieve water reclaim screen is also useful for rough screening of process water to remove stems, seeds, peels, pods, sticks, leaves, meat waste, and other food waste or foreign material in water recovery reuse; --and/or to reduce municipal costs and fines from BOD, TSS and/or TKN in your plant waste water

FEATURES:

Water sifting hydro-screen measures 36 inches wide (side to side) by 48 inches long (top to bottom).


Curved / parabolic "SWAY" type screen with .125 inch sieve openings.


Solids run off the bottom of the screen.


7 inch diameter flanged bottom tank discharge connections for water recovery.



All food grade sanitary stainless steel construction.

As of this writing, this Lyco hydrosieve waste-water recovery screen is in stock at ALARD, in EXCELLENT condition, available for immediate shipment.

CALL 315-589-4511 to confirm availability and discuss your waste water handling needs.

ALARD item reference #: Y5559