VACUUM SPIRAL MIXER, planetery, stainless steel, with two trolley bowls, and BOWL COLUMN LIFT/ MEAT CART DUMPER...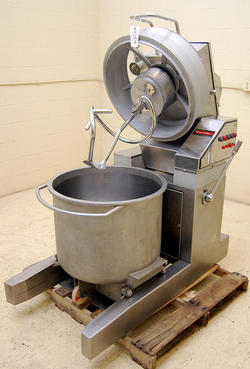 Fuerpla Model AO-160 planetery spiral meat mixer kneader with two interchangable wheeled mixing bowls, with bowl lifter and dumper...


Qty (2) mixing bowls are included, each 25 inches in diameter by 21 inches deep 160 liter (42 gallon) bowl capacity, manufacturer rated for 110 kg (240 lbs) capacity, and 1500 kilograms (3300 lbs) per hour throughput.


Power lid lift with onboard hydraulic pump.


All food grade USDA sanitary stainless steel construction.



Complete with operator control panel.


Overall dimensions of the mixer are 60 inches long front to back, 30 inches wide by 48 inches high with the lid closed, and 62 inches high with lid open.


Complete with onboard .5 HP vacuum pump.


3HP agitator drive.



Includ

es a Rocasa COLUMN LIFT / dumper that is fitted to match the mixing bowl trolleys, providing a dump height of approximately 78" high.

As of this writing, this vacuum mixer with two cart-bowls and column lift dumper is in stock at Alard in LIKE NEW condition, available for immediate shipment.

Alard item reference #:Y2541