ELEVATING CONVEYOR BELT,
cleated, 22 inch wide, all stainless steel...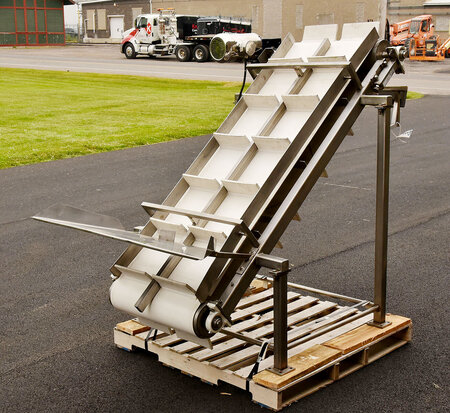 A food grade stainless steel incline conveyor with cleated belt, to even-feed fruit & vegetable products including apples, beets, carrots, cucumbers, potatoes, onions, beets and other root crop vegetables. Useful as a peeling machine feed conveyor, inspection conveyor feeder, and widely applicable to feed all manner of downstream food processing or packaging equipment in the context of a fresh-cut, pre-cut, produce packing or other industrial food processing production line.

FEATURES:


22 inch wide by 6.5 foot long rubber belt:



Two (2) 10.5 inch wide lanes.


4 inch high cleats on 12 inch centers.


Stainless steel center divider.


4.25 inch high clearance.



4 foot wide by 15 inch long tapered bolt-on infeed chute.


28 inch indeed height, 46 inch high discharge.


All food grade stainless steel.


NEW 1 HP stainless steel shrouded motor & aluminum gearbox



208/230 volt 3 phase electrical input.

As of this writing, this elevating belt conveyor is in stock at ALARD, in LIKE NEW condition and available for immediate shipment.

CALL 315-589-4511 to confirm availability and discuss your industrial food processing and packaging bulk food handling needs.

ALARD item reference #: Y4443