TWIN RIBBON MIXER-BLENDER-COOKER,
with SCRAPE SURFACE agitation, 1,200 lb capacity,
USDA, all stainless steel...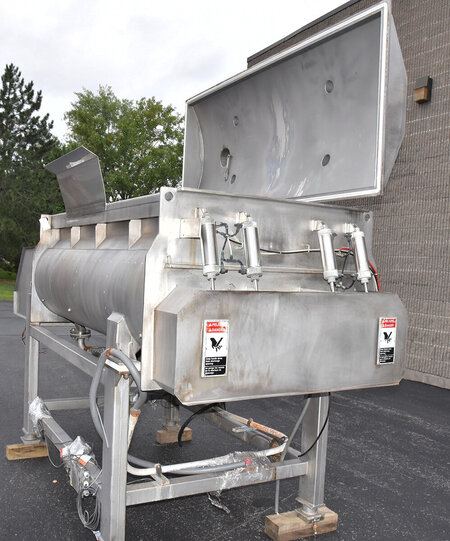 A 40 cubic foot / 300 gallon / 1,200 lb capacity Blentech Versatherm BLENDING COOKER Model TP-22088 steam jacketed ribbon blender with dual bi-directional scraper-agitators, and twin end bottom discharge doors for mixing / blending / heating / cooking food products. Don't settle for a cooking kettle, increased throughput with better heat transfer, for blending, cooking, sauteeing, stir-frying of medium to high viscosity ground meats, concentrated soups and slurries, chili, jams, preserves, jellies, taco meat, spring roll filling, lasagna filling, pie fillings, stews, sauces, ready meals, rice, pasta, grains, cheeses, pet foods, plant based proteins, and other fruit, vegetable, and meat products.


FEATURES:

Manufacturer rated for 40 cubic foot / 300 gallons / 1200 lb capacity.


Mixing vessel measures 34.5 inch wide by 87.5 inch long by 28 inch deep double-U shaped with hinged safety grid.


Stainless steel steam jacket manufacturer tagged for 90 psi working pressure. Blentech wrap-around steam jacket is manufacturer rated as offering a scraped surface heat exchange with a surface-to-product volume ratio 50% greater than any hemispherical cooking kettle.


Agitators have 2 inch wide by 1/2 inch thick ribbons mounted on 4 inch shafts with bi-directional scrapers which cover the total heat transfer surface area, and are designed to maximize heat transfer and minimize / eliminate product build-up.


Gasketed / sealed heavy stainless steel lid with dual pneumatic cylinder power lift.


Dual 17 inch wide by 7.75 inch high opening bottom end discharges with gasketed pneumatic discharge doors.


70.5 inch high infeed, 37 inch discharge height.


Independent pneumatic cylinders control left discharge, right discharge & lid lift.


USDA food grade sanitary stainless steel construction.

As of this writing, this jacketed scrape-surface twin shaft ribbon blender is in stock at ALARD, in GOOD condition, available for timely shipment.

CALL 315-589-4511 to confirm availability and discuss your particular industrial food process cooking, mixing and blending needs.

ALARD item reference. #: Y4673