TURBULENT FLOW fruit and vegetable WASHER FLUME,
with dewtering belt, food grade stainless steel...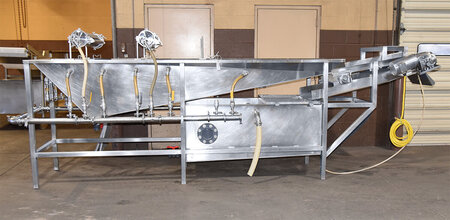 A CMI MULTI-NOZZLE WASH TANK is specifically designed for thoroughly washing fruits, vegetables & leafy greens such as radishes, celery, broccoli, cauliflower, spinach, spring mix greens and more...

FEATURES:

Turbulent-flow wash flume is 11 foot long by 16 inch wide.


Three (3) forward facing water nozzles plus nine (9) water nozzles line the sides -- each nozzle is individually adjustable giving you complete control of wash water flow for turbulent or helical washer action.


Two (2) overhead waterfalls promote immersion and cleaning of product.


Laminar water flow effectively separates sand particles from the product.


Wash tank overflows onto a 41 inch long by 24 inch wide ELEVATING DISCHARGE CONVEYOR.


Interlocking chain type dewatering belt with fine perforations allows water to pass through while discharging dewatered product onward.


The dewatering belt discharge conveyor is powered by a 1 HP stainless steel washdown motor.


Water catch tank with a NEW Thomsen Model 8 stainless steel RECIRCULATION PUMP powered by a 7.5 HP motor.


56 inch infeed height, 43 inch high discharge.


All food grade sanitary stainless steel construction.



208/230/460 volt 3 phase electrical input.

As of this writing, this turbulent washer is in stock at ALARD, in VERY GOOD condition and available for timely shipment.

CALL 315-589-4511 to confirm availability and discuss your industrial food washing needs.

ALARD item reference #: Y4550