SORTEX NIAGARA COLOR SORTER, model NIAGD-213.

A Buhler Sortex Niagara optical sorter, without cameras, but otherwise intact
with pneumatic reject system, electronic controls and circuit boards in place, suitable for completion or as a parts machine.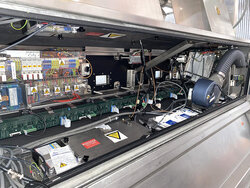 As of this writing, this optical color sorting grading machine is in stock at Alard Equipment Corp, Williamson, NY.
CALL 315-589-4511 to confirm availability, and to discuss your industrial food processing optical color sorting and grading needs.

Alard item reference #:Y4688