ROLLER BED INSPECTION CONVEYOR,
food grade stainless steel grading and sorting table,
with bottom takeaway conveyors...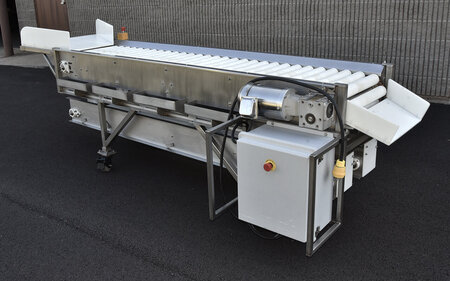 A ROLLER INSPECTION AND GRADING TABLE for sorting, grading, and inspecting apples, potatoes, onions, tomatoes, peppers, mushrooms as well as other assorted fruits & vegetables of a size and capacity for industrial food processing, food packaging operations. This visual inspection conveyor works to spin and rotate fruits & vegetables as they pass over the rollers which allow food products to be viewed from all angles so that spotted, blemished, bruised and/or unpeeled products can be picked out, trimmed, separated and/or discarded. It also includes bottom takeaway conveyors that can be used for rejects, smalls, or trash, depending on your industrial food processing application.



FEATURING:
2.25 inch diameter PVC rolls.


3/4 inch spacing between rolls.


2 inch high sides.


18 inch long sloped UMHW dense white food grade plastic infeed chute.


9 inch long sloped UMHW dense white food grade plastic discharge.


Configured for nine work-stations / workers, with (9) 15.5 inch wide by 4 inch deep stainless steel grading chutes (five on one side, four on the control box side) which feed down to two (2) 6 inch wide by 8 foot long waste takeaway conveyors running beneath the roller bed.


Roller bed and takeaway conveyors run counter-directionally (roller bed goes one way, takeaway conveyor run the oppposite way).


Approximate 36 inch working height roller bed, with locking casters for ease of mobility.


Food grade sanitary stainless steel construction.


Control panel with operator E-stops.



As of this writing, this roller inspection table is in stock at ALARD, in EXCELLENT operational, mechanical, electrical & cosmetic condition, available for immediate shipment.

CALL 315-589-4511 to confirm availability and discuss your industrial food process inspection, grading, and/or sorting needs.

ALARD item reference #: Y5660