VERTICAL FORM FILL SEALING MACHINE,




food grade, stainless steel, for liquids, sauces, slurries...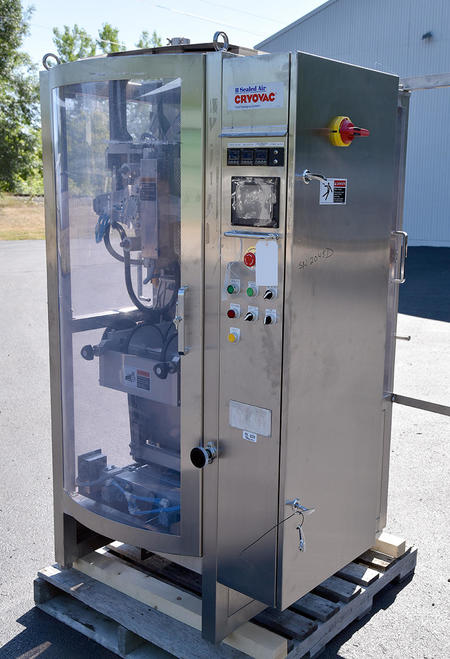 A Cryovac Model 2045D, automatic form fill seal flexible pouch / bag-former, filler, sealer, manufacturer recommended specifically for packing pumpable foods and liquids into flexible pouches; running a wide range of products including sauces, soups, ready-meals, processed fruits & vegetables, oil, condiments, liquid eggs, dairy products, etc...
FEATURING:

An automatic continuous form-fill-seal machine manufacturer rated for 28 pouches per minute.


Capable of packaging cold liquids as well as hot product with a 205 degree Fahrenheit maximum.


Handles particulates up to 0.25 inch.


Cryovac's unique squeeze-roller technology yields a pack with little to no head space in the package.


Manufacturer rated for product with or without particulates up to 30mm in diameter.


Touch screen operator control panel.


Food grade USDA sanitary stainless steel construction.


Does NOT include a feed pump. Manufacturer literature indicates this VFFS can be fed with a positive displacement lobe pump, or a piston filler; --and Alard usually has one or both available. Call 315-589-4511 to discuss your flexible pouch filler application.


Includes a 16 inch wide by 18 foot long takeaway / discharge conveyor with food grade plastic interlocking chain type belt.


Manual included.


230/460 volt 3 phase electrical input.



Compressed Air requirement 90psi, 25 cfm.

As of this writing, this Cryovac vertical form fill seal machine (VFFS) is in stock at ALARD, in VERY GOOD mechanical & electrical condition, available for immediate shipment.

CALL 315-589-4511 for availability and to further discuss your food packaging needs.

ALARD item reference #: Y3978