FOOD GRADE PISTON TRANSFER PUMP,
food grade stainless steel...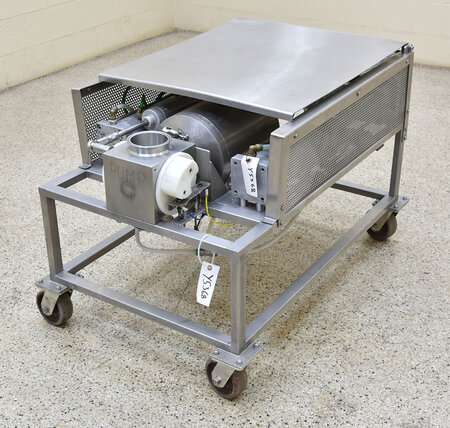 A food grade stainless steel pneumatic piston food pump to gently transfer your flowable products to your filling, depositing or processing line. They are also used for pumping products to and from cooking or holding tanks for further processing. The volumetric positive displacement action of this plunger pump "pulls" for self-priming, and pushes even viscous, hard-to-handle products positively. This type of gentle, low shear piston pump configuration is widely used for transferring shear-sensitive food products including pie filling, soups, soup bases, pasta sauces, BBQ sauce, BBQ meat with sauce, deli salads, macaroni and cheese, muffin batter, cake batter, guacamole, coleslaw, stew, refried beans, chili, cheese sauce and many other foods.

FEATURES:
Pneumatically operated.


9.5 inch diameter bore by 9 inch stroke piston cylinder - delivers approximately 2.5 gallons per stroke.


4 inch diameter inlet/outlet with sanitary Triclamp connections.


Food grade sanitary stainless steel construction with UHMW piston.


Mounted on a stainless steel cart with casters for added mobility.


Previously used in USDA inspected "wet salad" production and packing lines.


Compressed air input required for operation.

As of this writing, this Piston Xfer Pump is available at ALARD, in EXCELLENT operational, mechanical pneumatic & cosmetic condition, available for immediate shipment.

CALL 315-589-4511 to confirm availability and discuss your particular food handling needs.

ALARD item reference #: Y5368