URSCHEL Model HS-A SLICER,
for flat slice cuts,
USDA food grade sanitary stainless steel
fruit and vegetable slicing machine...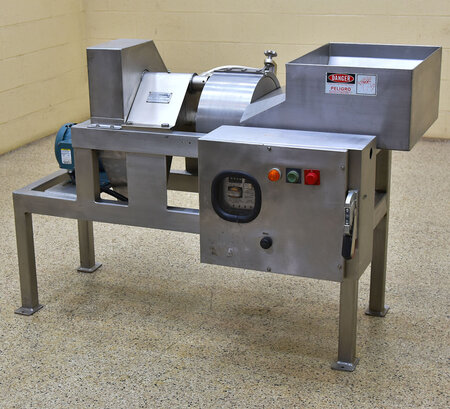 A simple, yet rugged, high-speed centrifugal slicing machine manufacturer recommended for cutting a wide variety of produce including beets, potatoes, carrots, cabbage, lettuce, eggplant, cucumbers, pickles, cranberries, apples, pears, strawberries, tomatoes, and peaches. Engineered for continuous tons-per-hour industrial-scale production, in a simple design for easy clean-up & maintenance.

SPECIFICATIONS, per manufacturer literature:
Accepts product input up to 5.5 inches (140mm) in any dimension - larger products must be precut.


Throughput capacity depends on slice thickness and density, so for example, root crop vegetables are rated for 12,000 lbs per hour for 1/4 inch (6.4mm) slices, while capacity on 3/4 inch (19mm) slices will be 36,000 pounds per hour. On products which are lighter than root vegetables, the capacity will be lower in accordance with the density of the products.


At reduced capacities, this slicer will make slab cuts / sandwich cuts, slicing the full length of oblong products such as potatoes, carrots & pickles, but the products must not be longer than 5 inches.


This slicer will not cross-cut elongated products - the Urschel Model OV, which we also have in stock as of this writing, is used for crosscut slicing.


Some products may need to be frozen or tempered for firmness to be successfully cut with this machine - CALL 315-589-4511 to discuss your particular industrial food process cutting machine application.



"A" model, manufacturer rated as USDA food grade sanitary.

OPERATION:

Centrifugal force holds product against inside of slice case as impeller blades carry product past slicing knife.


Distance between adjustable case gate and slicing knife determines slice thickness.


FEATURES:
Stainless steel 7 inch opening slice shell.


40 inch infeed height, 18 inch high discharge.


Food grade stainless steel construction.


2 HP drive motor.



208/230 volt 3 phase electrical input.

As of this writing, this reconditioned Urschel slicer is in stock at ALARD, in EXCELLENT operational, mechanical, electrical & cosmetic condition, available for immediate shipment.
CALL 315-589-4511 to confirm availability, and to discuss your particular food equipment needs.

ALARD item reference #: Y5413