HOT WATER ROTARY BLANCHER, 16 x 4...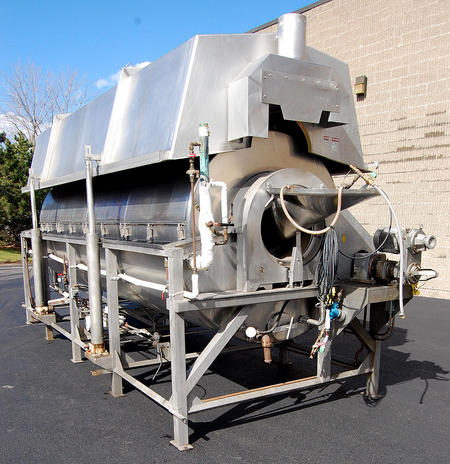 A Hughes Model 04-1020, all stainless steel fruit and vegetable blancher featuring...

A 16 foot long by 48 inch diameter rotary blanching drum.


5/32 inch screen perforations.



USDA sanitary construction, all food grade stainless steel with fully removable screen panels.


Powered screw cover lift.


CIP spray header with 10HP Triclover pump.


Hinged drum access / cleanout doors.


30 inch diameter round stainless steel infeed hopper at a 69 inch infeed height.



Rigidized / dimpled stainless steel discharge chute at a 36 inch discharge

height.


3 phase main trunnion drive.



Fractional HP cover lift drive.

As of this writing, this fruit and vegetable blanching machine is in stock at Alard, in very good condition, available for timely shipment.

Alard item reference #:Y3439