150 gallon STAINLESS STEEL STEAM JACKETED KETTLE, with INA SCRAPER-AGITATOR...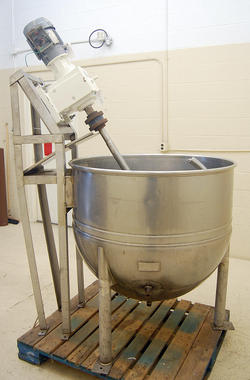 A Lee Industries 150 gallon steam jacketed cooking kettle with scrape-surface agitation, FEATURING:


42 inch diameter by 34 inch deep hemispherical bottom stainless steel vessel with a 3 inch Tri-clamp center bottom outlet.


Stainless steel steam jacket manufacturer tagged and National Board coded for 90 psi working pressure.


Inclined agitator (INA) scrape-surface mixer on stainless steel frame, with 3 phase drive.



All food grade stainless steel including legs.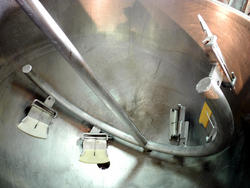 As of this writing, this 150 gallon mixing kettle is in stock at Alard, in good operational condition, available for immediate shipment. CALL ALARD at 315-589-4511 for current availability, and to dicuss your food process heating / cooking / mixing equipment needs.

Alard item reference #:Y2757