URSCHEL Model OC CROSSCUT BIAS SLICER...

Urschel OC TRANSVERSE SLICER for making angled coin cuts of oblong fruits and vegetables in a variety of crinkle or flat bias slices.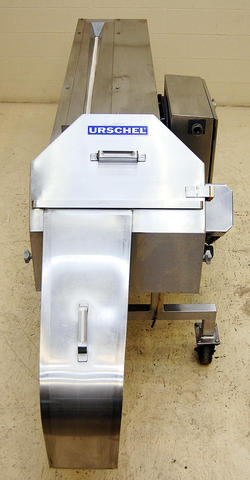 FEATURING:

ANGLED cutting wheel configuration, for bias-cut slices.


Adjustable mechanical product hold-down mechanism, keeps products straight and level as they pass through the cutting head.


Safety interlock system with factory control panel; --cuts power to the machine is safety shrouding is removed.


88 inch long food grade white rubberized product feed

belt.



All food grade stainless steel and Urschalloy product contact surfaces, guards and shrouds, with

tubular stainless steel support frame and legs.


208 / 230 / 460 volt 3 phase electrical input drive motors (one for the belt, one for the cutting head), with brakemotor on cutting head.


Manufacturer literature rates for:



Slice thickness from 1/16th inch (1.58mm) to 1.75 inch (44.5mm),
with cutting wheel and belt timing set to slice.


Maximum product input size of 2.5 inches (63.5mm) in diameter.


Flat slices or crinkle cut cutting setups are available.


CALL ALARD at 315-589-4511 for current availability, and to discuss your
particular cutting specifications.
Manufacturer recommended for pickles, carrots, celery, plantains, rhubarb, okra, potatoes, zucchi, squash, bread, and a variety of other vegetable and fruit products.

As of this writing, this LIKE NEW Urschel OC slicer is in stock at Alard, in EXCELLENT operational, mechanical, electrical and cosmetic condition, available for immediate shipment.


Alard item reference #: Y2563