URSCHEL E TRANSLICER CUTTER, SLICER...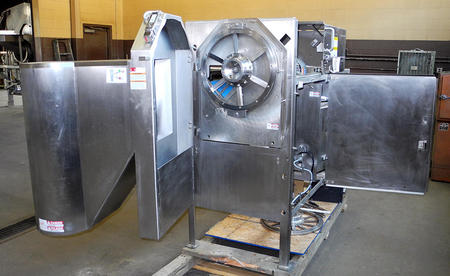 The Urschel Model E Translicer (ETRS) is a a v-belt feed transverse slicer capable of flat and crinkle slices as well as julienne cuts, and is partcularly manufacturer recommended as "spcializing in slicing of elongated products". Manufacture website recommends for slicing cucumbers for pickles, carrots, asparagus, celery, zucchini, leeks, green beans, green onions, leeks, romaine lettuce, jalapeno peppers, banana peppers, kiwi, lemon, pepperoni, cooked chicken tenders, bell peppers, plaintains, sweet potato, pre-cored pre-quartered cabbage, bread sticks, wieners, and other fruits and vegetables.


FEATURES:


Manufacturer rated to accept up to 4 inch diameter firm product, and up to 6 diameter compressible products (may require optional hold-down belt). CALL ALARD at 315-589-4511 for current availability, and to discuss your particular cutting need(s).


Manufacturer rated (with suitable cutting parts) from 1/32 inch to 3 inch (.8 to 76.2 mm) flat slice cuts and "coin cuts". Cutting wheels are also available for julienne strips, oval shreds and a variety of "microslice" cuts.


24 blade cutting wheel included.


Food grade USDA sanitary stainless steel construction.


Runs the same 20 inch cutting wheels as the Urschel Translicer 2000.


Interlock safety system disconnects power if safety guards are opened or removed.


3 HP brakemotor cutting wheel drive, 1 HP feed belt drive.



Stainless steel factory control panel with VFD variable speed controls, 208/230 volt 3 phase electrical input.

As of this writing, this Urschel Model ETRS E-TranSlicer is in stock at Alard, being cleaned and serviced to EXCELLENT condition, and available for timely shipment.

Alard item reference #:Y3592