SILGAN WHITE CAP CAPPER, model VE...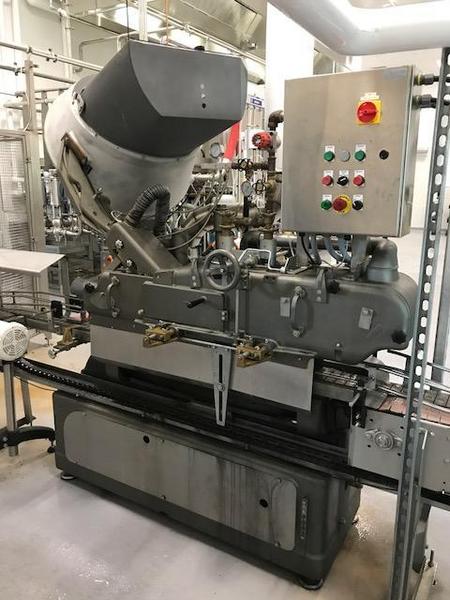 A Silgan White Cap direct vapor vacuum capping/sealing system for press on and twist off lug caps...


FEATURING:
Currently set for 63mm lug caps. Manufacturer rated for 27mm through 110mm closure size range, with proper change parts; -- CALL 315-589-4511 to to discuss your particular steam capper / vacuum capping requirements.


9 foot 6 inch long thru-conveyor, with 4.5 inch wide stainless steel tabletop chain, at a 35 inch working height.


Left to right product flow from operator control posiiton.


Model 6R17 cap sorter with hinged cover, 83 inch high cap infeed.


Stainless steel control panel w/operator controls.


High speed model for up to 250 fpm conveyor speed.


Manufacturer literature rate up to 700 caps per minute depending on cap and hopper setup.


Power-take-off for filler drive.


3 phase drive.



60 psi / 350-400 lbs/hr steam required.

As of this writing, this vacuum steam capping machine is in stock at Alard in excellent condition, available for timely shipment.
CALL 315-589-4511 to confirm availability, and to discuss your particular container closure / vacuum capping needs.

Alard item reference #:Y3586