1000 gallon TANK,
food grade stainless steel,
jacketed and insulated, vertical...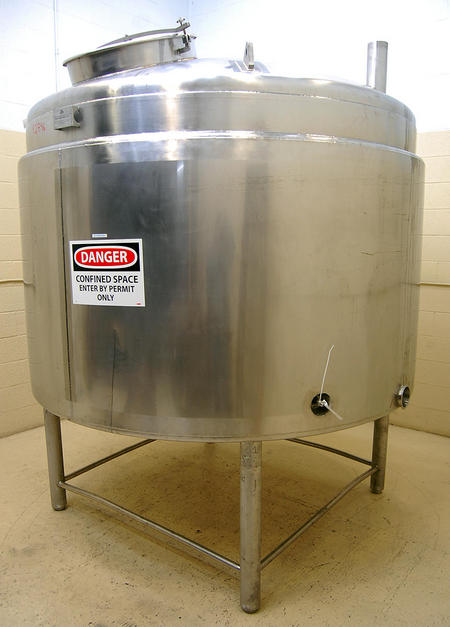 A one thousand gallon vertical double-wall stainless steel tank, for food grade juice, water, oils, sauces, and/or other food products...
80 inch diameter by 48 inch deep straight sided vessel.


Sloped bottom to 4 inch bottom side outlet with Tri-clamp connection.


Double wall, low-pressure jacketed, for glycol or water (NOT pressure rated for steam). Dual zone jacketed, with side wall and bottom zones.


Insulated sidewalls.


Dome top with multiple top inlets and vents, and 22 inch diameter manway with hinged cover.



All food grade stainless steel construction, including (4) stainless steel support legs.

Previously used in a fruit jam operation.

As of this writing this food grade stainless steel process tank is in stock at Alard, in excellent condition, available for immediate shipment.

CALL 315-589-4511 to confirm availability, and to discuss your particular liquid process tank, storage tank, heating tank, cooling tank, and/or mix tank requirements.

Alard item reference #:Y2846