GROEN Model DEE/4T-60,
60 GALLON SELF-CONTAINED ELECTRIC
STAINLESS STEEL TILT KETTLE with
inclined SINGLE MOTION SCRAPER-AGITATOR.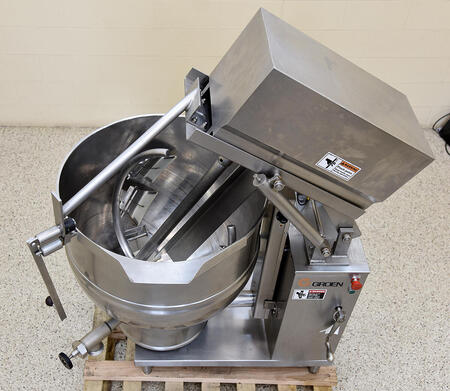 A 60 gallon capacity electric-fired cooking kettle, with tilt-to-dump discharge, incline agitator with scrapers, and a side-bottom outlet with valve.


FEATURING:


30 inch diameter by 22.5 inch deep hemispherical bottom vessel.


Bottom side outlet with manual valve and 2 inch Tri-clamp connection.


Crank tilt to dump, with pour lip.


Steam jacket manufacturer rated for 50 psi @ 300F, "U" stamped, National Board Coded and UL listed.


44.5 inch infeed height.


All food grade sanitary stainless steel construction.



Self-contained / integral electric heater powered by 208 /230 volt 3 phase electrical input, complete with thermostatic control.

As of this writing, this Groen Dover Industries 60 gallon electric cooking kettle is in stock at ALARD, in EXCELLENT operational, mechanical & electrical condition, available for immediate shipment.

CALL 315-589-4511 to confirm availability and discuss your food processing needs.

ALARD item reference #: Y4221