BOCK SPIN DRYER BASKETS,
quantity (4)...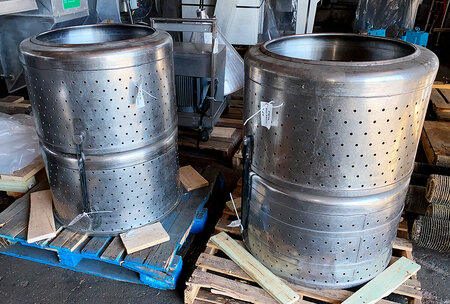 Quantity four (4) Bock centrifugal dryer, spinner, spin dryer BASKETS for North Star Engineered Product Bock model FP-90 and FP-95 SPIN DRYERS.


FEATURES:
30 inch diameter by 19 inch deep centrifuge basket with 3/8 inch diameter perforations allow water to escape.


These removable spin dryer baskets have yoke lift ears for overhead winch removal, dumping, and replacement.



Heavy food grade all stainless steel construction.

As of this writing, these used Bock spin dryer baskets are in stock at Alard in very good condition, available for immediate shipment.

CALL 315-589-4511 to confirm availability, and to discuss your particular food equipment needs.

Alard item reference #:Y4572