Electric STEAM BOILER, 15HP,
Electro Steam Model LB150H,
100psi maximum, 80psi operating pressure...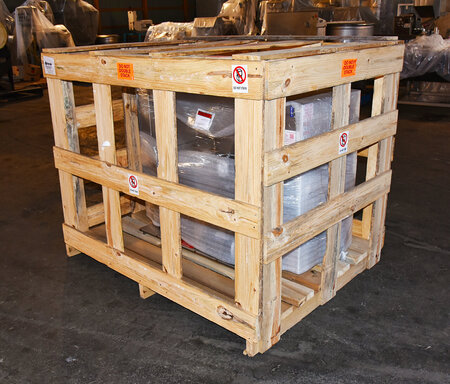 Electro-Steam model LB150H electric STEAM BOILER,
NEW in factory crate available for immediate shipment
Alard item Y5112.


This Electro-Steam LB-150-H (high-pressure) STEAM GENERATOR is a high-pressure steam generator conveniently sized and packaged as a plug, plumb and run solution wherever high-pressure steam generation is required. This small electric steam generator system is highly efficient, easily installed and operated, and highly reliable.

FEATURES:


15 BHP boiler horsepower.


Nominal Capacities (assuming 60 deg F feed water):



400 lbs per hour (180 kg per hour)


Water consumption: 26 gallons per hour (98 liters per hour)



502,130 BTU gross output.


100 psi maximum boiler pressure.


Operating pressure factory set at 80 psi


Boiler fill capacity: 22 gallons


Cabinet material: 304 stainless steel.


½ inch NPT threaded (female) water inlet.


¾ inch NPT threaded (female) steam outlet.


1.25 inch NPT threaded (female) safety-valve outlet.


Drain ball valve with 1 inch NPT threaded (female) outlet.


Dual pressure controls.


Low Level Cut-Off.


High Pressure Safety Reset.


Safety Relief Valve.


US manufacturer / made in the USA.


One year parts warranty, 5 year pressure vessel warranty. Extended warranties available.


ASME certified, National Board Coded, CRN / CSD-1 (Canada), UL listed.


Requires 110v (standard household current) electrical input for control circuit.


(2) HEATER power supplies each require 208 volt 3 phase electrical input (208.2 amps each), or 240 volt 3 phase electrical input (196.5 amps each).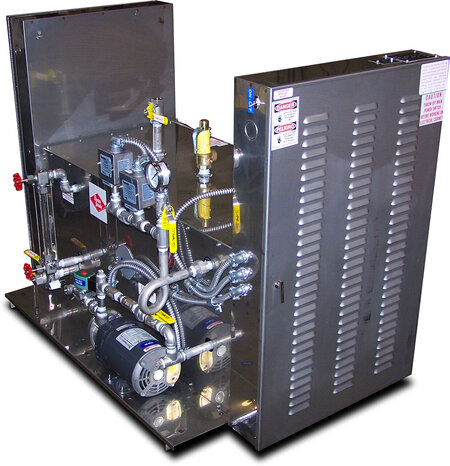 Manufacturer brochure picture,
for the Electro Steam LB BOILER line.


Alard Equipment Company is an active authorized reseller for Electro-Steam Boilers, so we can offer from their full line of steam generation systems, a steam boiler system specifically configured to satisfy your particular steam generation equipment need; -- call 315-589-4511 to discuss your particular application specifications.
As of this writing, this 15HP 100 psi electric steam boiler system is in new in-stock at Alard, in the factory crate, available for immediate shipment.

CALL 315-589-4511 to confirm availability, and to discuss your particular food equipment needs.

Alard item reference #: Y5112