WAUKESHA UNIVERSAL 1 Series Model 130
SANITARY ROTARY POSITIVE DISPLACEMENT PUMP
with drive and base...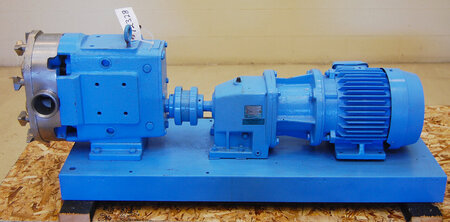 A Waukesha Cherry-Burrell sanitary PD twin lobe pump, manufacturer recommended for pumping viscous fluids, slurries, or particulate bearing liquids in industrial food, dairy, canning, bakery, beverage and pharmaceutical processing applications.


FEATURES:

3 inch inlet and discharge ports with threaded connections in a horizontal flow orientation.


USDA / 3A Dairy sanitary food grade pump with a T316 stainless steel body, cover and shaft, with easy disassembly for cleaning and sanitation.


Coupled to a 3HP motor, geared for 343RPM at the pump lobes, for up to approximately 86 gpm throughput (depending on product viscosity and head pressure, pump curves available on request). Manufacturer rated for up to 600 RPM and 200psi working pressure.


Pump and drive mounted together on a painted mild steel base.



208 / 230 / 460 volt 3 phase electrical input.

As of this writing, this Waukesha lobe pump is in stock at ALARD, in GOOD operational, mechanical & cosmetic condition, available for immediate shipment.

CALL ALARD at 315-589-4511 for current availability and discuss your food product pump requirements.

ALARD item reference #: Y2328