CMI ONION SLICER / PEPPER SLICER / TOMATO SLICER,




food grade, stainless steel.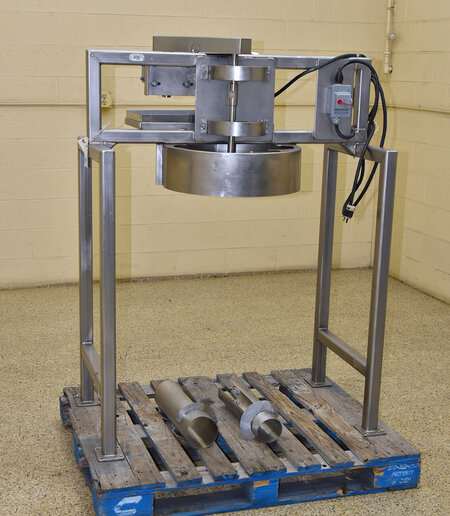 A CMI Model OS-S a waterfall style slicing machine with four (4) feed tubes over a curved rotating blade spinning at low RPMs. With each feed tube a different diameter, this vegetable slicer is manufacturer recommended for a range of products including cutting onion rings, onion slabs, peppers, cucumbers, tomatoes, mushrooms, oranges and more.

FEATURES:

Manufacturer literature states this onion slicing machine is capable of cutting over 500 pounds per hour.


Manually adjustable 1/8 inch to 1/2 inch slice thickness.


66 inch high infeed, 43 inch discharge height.


Operator On/Off switch.


All food grade stainless steel construction including tubular support frame.


1/2 HP belt drive washdown motor.



110 volt single phase electrical input.

As of this writing, this commercial grade, industrial grade fruit & vegetable slicer is in stock at ALARD, in EXCELLENT operational, mechanical, electrical & cosmetic condition and available for immediate shipment.

CALL 315-589-4511 to confirm availability and discuss your food slicing needs.

ALARD item reference #: Y5658