HIGH SPEED PARICULATE COOLER,
LYCO Easy-Flow, 4-zone...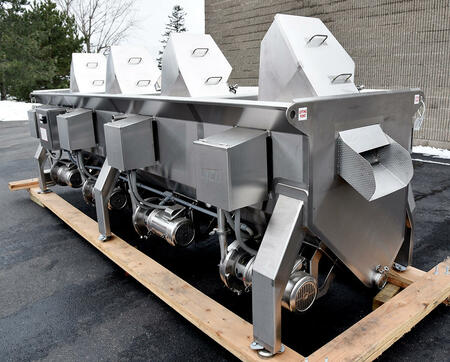 A Four Zone LYCO EASY-COOL CONTINUOUS COOLER, all food grade sanitary stainless steel. Manufacturer recommended for corn, peas, green beans, pasta, rice, proteins, dry beans, cut potatoes, potatoes, onions plus many other vegetables and a multitude of food types and shapes.


Manufacture literature describes a revolutionary design for rapid cooling of particulate food items, which they say can, for example cool cooked-hot pasta products down to 40 degrees Fahrenheit, in a fraction of the time of traditional cooling methods. Each zone is capable of submerging and mixing product in cold well water or chilled water where the product rapidly releases heat.

BENEFITS:


Rapid cooling in a small footprint.



Dramatically reduced cooling times.



Improved food safety AND productivity.



Consistent results and uniform end product.



Lower freezer and/or refrigeration costs.



Heat from the first zone can be recycled to pre-heat blancher or cooker water.



MANUFACTURER LITERATURE describes this 4-stage Lyco Easy-Flow continuous cooler SPECIFICATIONS as:


High-capacity, up to 5,000 pounds an hour capacity.



As a high-speed particulate cooler able to cool most products like pasta, rice, or vegetables, from 200 degree Fahrenheit down to 40 degrees Fahrenheit in approximately 30 seconds.



As a flash chiller able to cool food products from 200 degrees Fahrenheit to 70 degrees Fahrenheit in 10 seconds.


Removable wedge-wire dewatering screens.



Four (4) Alpha Laval LKH40 sanitary centrifugal pumps, one for each water plenum zone, each with Sterling stainless steel shrouded 5HP motors.



Four (4) Yaskawa 1000 Nema 4 variable speed drive controllers in stainless steel enclosures with hinged access covers mounted along the side of the cooler.



Overall Dimensions: 190 inch long by 60 inch wide by 63 inch high.



44 inch infeed height, 29.5 inch discharge height.



All food grade sanitary stainless steel construction with open, sanitary, easy to clean design.



Stainless steel electrical feed box with safety-lock-out, 460 volt 3 phase electrical input.



As of this writing, this Lyco flash chiller / plenum cooler is in stock at ALARD, in EXCELLENT operational, mechanical, and cosmetic condition, ready to go and available for immediate shipment.


CALL 315-589-4511 to confirm availability and discuss your food processing needs.

Alard item reference #: Y4132