Key Iso-Flo VIBRATING FEEDER,
vibratory shaker-feeder, food grade, all stainless steel...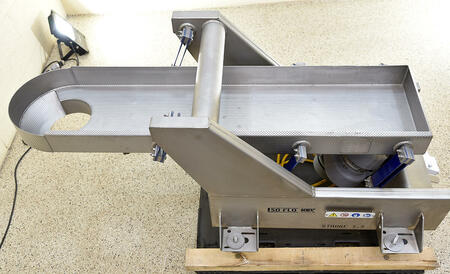 A Key Iso-Flo vibratory conveyor for even-feeding to downstream equipment, such as a radial combination scale, cutting machine, filling machine, peeling machine, or whatever food processing or packaging equipment.

FEATURING:
Vibrating conveyor bed measuring 76.5 inch overall length by 18 inch wide.


Dimpled / rigidized stick-resistant stainless steel contact surfaces.


5.5 inch high sidewalls.


9.75 inch diameter bottom end discharge with 4 inch long discharge chute.


Flexible mounting options: Can be equipped with legs for floor mounting, or suspended from above e.g. ceiling mounted to feed a scale, depending on your particular producting line configuration - CALL 315-589-4511 to discuss your particular bulk food product conveyor and feeding requirement.


All food grade sanitary stainless steel construction, including support frame.


(4) mounting springs (not shown in pictures) included.



New style Key Iso-Flo eccentric drive with 1HP 208/230/460 volt 3 phase washdown motor.

As of this writing, this vibrating shaker-feeder is in stock at ALARD, in EXCELLENT operational, mechanical, electrical, and cosmetic condition; available for immediate shipment.

CALL 315-589-4511 to confirm availability and discuss your industrial food process bulk food conveying and feeding need.

ALARD item reference #: Y4180