DIRT REEL WASHER, DOUBLE DRUM...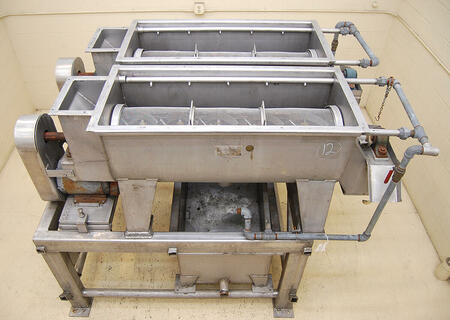 An EMK washer / dirt reel for cleaning cranberries, blueberries & other firm fleshed small fruits...

FEATURING:
Twin 48 inch long by 20 inch wide by 20 inch deep trough tanks, each outfitted with dual spray bars and 4 inch center bottom drains.


Tanks are equipped with 1.5 inch wide by 3/8 inch thick by 11.5 inch diameter segmented stainless steel ribbon paddles plus bronze paddle mounts and mild steel shaft.


7 inch by 11 inch inlet hopper with 66.5 inch infeed height.


9 inch by 12 inch end product outlet with 43.5 inch discharge height.


Bottom water collection tank measures 24 inch wide by 48 inch long by 19 inch deep with a 2 inch bottom outlet.


Powered by dual 7.5 HP belt drive motors.


230/460 volt 3 phase electrical input.



Includes six (6) 1/8 inch screens plus one (1) 1/4 inch screen.

As of this writing, this Double Drum Dirt Reel Washer is in stock at ALARD, in GOOD condition, available for timely shipment.

CALL 315-589-4511 for current availability, and to discuss your particular food product handling needs.


ALARD item reference #: Y2514