WEILER Model 1612B BLOCK GRINDER, 150HP.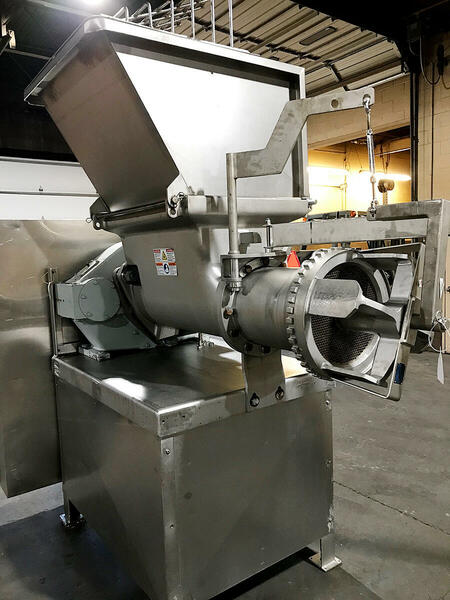 The Weiler 1612 meat grinder is manufacturer recommended to deliver premium quality product for a wide range of mid to high volume grinding applications from input in frozen block, tempered block, pre-broken frozen and rendering applications. Delivers coarse grinds at exceptional throughput rates for ground, formed and portioned products, sausages, protein alternatives, pet food, pet treats, and pharmaceutical products, including beef, pork, poultry, veal, bones, fat, fruit, mutton, seafood, vegetables and other products.

FEATURES:


38 inch by 34 inch by 24 inch deep reversible block feed hopper with stainless steel safety grid.





Straight fluted head with 110-050983SS auger.





16" diameter grinding disk, with cross-bridge grinder ring.





Model FP1000 Screw trolley unloader and grinder ring holder.





Manufacturer rated for products up to 24,000 pounds (10,886 kilograms) per hour. Actual grind rate will depend reduction size, raw material raw material temperature and other factors.





150HP 3 phase drive, with Model 16123-5HC gearbox, multi-belt drive configuration.

As of this writing, this Weiler 1612 meat block grinder is in stock at Alard in very good condition, available for immediate shipment.

CALL 315-589-4511 to confirm availability, and to discuss your industrial meat grinding and process equipment needs.


Alard item reference #:Y4169