Safeline PIPELINE METAL DETECTOR,
with 2.5 inch tube, automatic reject valve,
food grade sanitary stainless steel...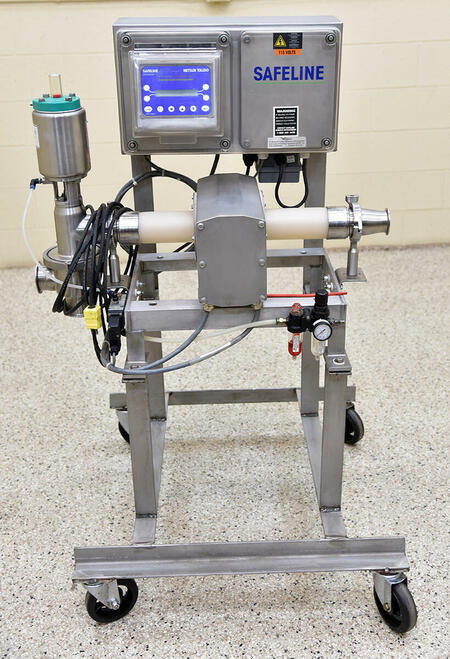 A stainless steel Safeline PL63 inline metal detector with pneumatic divert valve for pumped food products including sauces, pastes, slurries, creams, oils, purees, salsa, refried beans, and other viscous or liquid food products hot or cold. Also useful for vacuum packed applications where product is pumped to avoid oxidation. For food safety metal detection on food products as they travel through
process pipelines...


FEATURING:


Has 2.5 inch diameter by 22 inch long anti-static UHMW plastic through-tube running through a 4 inch diameter by 6 inch long opening in the metal detection sensor-head.





All USDA / 3A dairy-sanitary Tri-clamp inlet/outlet connections / fittings. NOTE: Pictures show the through-tube infeed necked down from a 2.5 inch Tri-Clamp connection / to a 2 inch Tri-Clamp connection. This reducer can be easily removed or utilized as desired.





Pneumatic reject valve with 2.5 inch sanitary Tri-clamp fittings. Straight-through good product discharge, down-facing reject discharge.





Frame-mounted, stainless steel control panel with digital touch-pad operator controls.





All food grade sanitary stainless steel construction.





Metal

detection head, divert valve & control panel mounted together on a common stainless steel frame, on casters for portability; set for:110 volt single phase (standard household current) electrical input.



33" high infeed to center-of-pipe.


37 inch high straight-through good-product discharge from the reject valve.



31 inch high floor-facing rejected-product discharge.





110 volt single-hase (tandard household current) electrical input.





Compressed air required for automatic reject valve.

As of this writing, this industrial food process pipeline metal detector is in stock at ALARD, in EXCELLENT operational, electrical & cosmetic condition, available for immediate shipment.

CALL 315-589-4511 to confirm availability and discuss your food process metal detection needs.

ALARD item reference #: Y4198