BOCK FP-35
PLASTIC BASKET SPIN DRYER,
20 gallon basket, up to 35 lb capacity,
all stainless steel...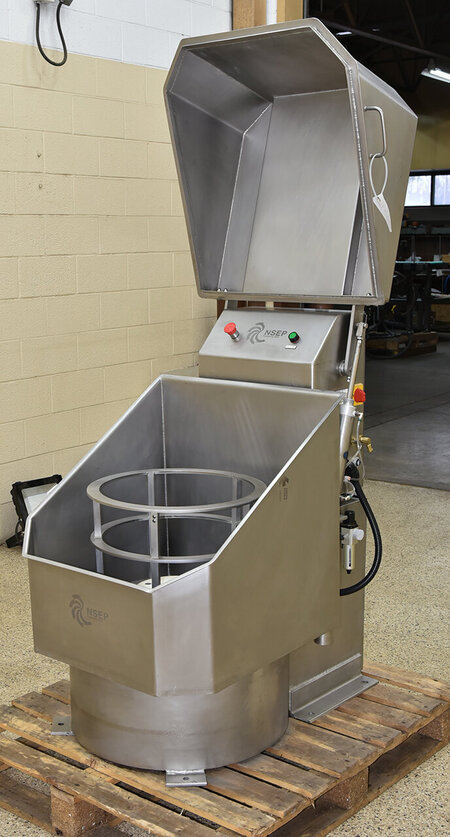 A refurbished BOCK FP-35 "Mini Brute" SPIN DRYER, with light, easily hand-removable plastic basket; for industrial fresh-cut and pre-cut produce processing and packaging lines. This food grade stainless steel centrifugal dryer is an essential component of any fruit or vegetable cut, wash & dry production including commissaries, kitchens, farms and processors.



FEATURES:


Manufacturer rated for up to 35 pound (dry weight) loads.


Will come with one white Rubbermaid Brute type 20 gallon plastic basket (on order, not shown in pictures) so it can be loaded and unloaded by hand, withOUT necessity of overhead winch.



This basket size fits easily under cutting machines, dewatering shakers plus other upstream feed equipment.


Baskets are available in a variety of colors and perforation sizes.


Call 315-589-4511 for pricing to your specification.



Stainless steel control box with safety interlock system, speed selector, start, stop and emergency stop.



Settable timer (inside the control box).


Centrifuge control system provides for electronic acceleration and dynamic braking to reduce cycle times for maximum productivity.



1.5HP belt drive motor.


460 volt 3 phase electrical input.



80psi @ 0.5cfm compressed air required.

As of this writing, this BOCK FP35 spinner is in stock at ALARD, in EXCELLENT operational, electrical, mechanical & cosmetic condition, ready-to-go and available for immediate shipment.

CALL 315-589-4511 to confirm availability and discuss your particular fresh-cut/ pre-cut produce packing equipment needs.

ALARD item reference. #: Y5544