CORENCO DISINTEGRATOR Model M15DA, 50 HP,


food grade stainless steel hammermill, grinder...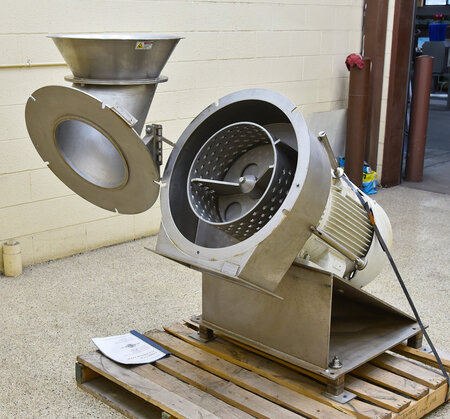 A 15-inch Corenco DISINTEGRATOR manufacturer recommended for grinding, shredding, delumping, homogenizing, fine dispersing or fine pulping of wet & dry products. Nearly identical in design to a Rietz Bepex Disintegrator, this Corenco mill is built for particle size reduction in food grade high-capacity industrial production environments, such as grinding, pureeing, granulating, pulverizing, and wet grinding, in fruit & vegetable processing, nutraceutical, chemical and pharmaceutical applications.

FEATURES:

Currently equipped with grater/shred screen.


21 inch diameter by 7 inch deep cone infeed.


15 inch rotor diameter.


Two (2) paddle impeller.


16 inch by 8 inch rectangular flanged discharge.


Food grade sanitary stainless steel construction.


50 HP belt drive motor.


3 phase electrical input.



New 2021.

As of this writing, this food grade stainless steel disintegrator mill is in stock at ALARD, in EXCELLENT operational, mechanical and cosmetic condition, available for immediate shipment.

CALL 315-589-4511 to confirm availability and discuss your food process particle size reduction needs.

ALARD item reference #: Y5297