COMMERCIAL CABBAGE CUTTER, 26 INCH,




industrial-capacity food grade stainless steel


vegetable SLICER / SHREDDER / STRIP CUTTER.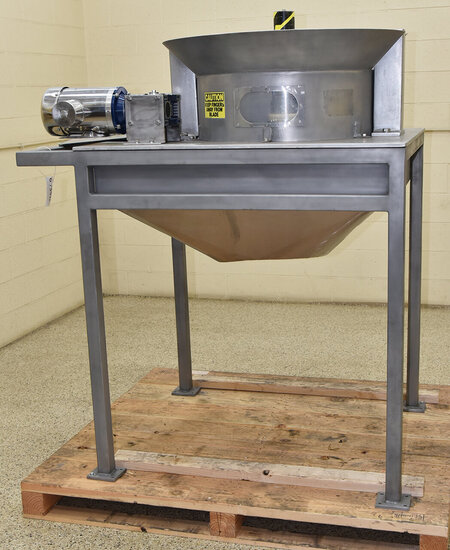 A Commercial Slicer Model 26NS, also known as a "Waterfall" slicer or Kibbey cutter, has long been the mainstay of the coleslaw and sauerkraut industries. Manufacturer recommended for industrial capacity tons-per-hour throughput running lettuce, cabbage, onions, peppers, cucumbers, potatoes, carrots, tomatoes and celery.


FEATURES:

26 inch diameter aluminum frame cutting disk with stainless steel knives - 100% cutting surface.


"Three cup" counter-rotating aluminum carrying arm pusher-plow to prevent rolling and maximize throughput capacity.


Open infeed to easily accept heads of cabbage, lettuce and other whole vegetable products up to 9 inch diameter.


Manufacturer rated for up to 25,000 pounds per hour (depending on cut size and product).


Set with 1/8 inch wide by 2 inch long shred cutting knives:



A range of cutting disk and blade configurations are available for one and two-dimensional cutting (slices, strip cuts, julienne cuts) in thicknesses from 1/32 to 2 inch and up to 5 inch in length.


Grater blades are also available for shredding carrots, slaw, onions, and other fresh vegetables.


CALL 315-589-4511 to discuss your particular industrial food process vegetable cutting / cut size specification.



Food grade stainless steel construction, including tubular stainless steel frame.


Two (2) 1.5HP gear-motor washdown drives - cutting wheel & plow powered separately.



208 / 230 / 460 volt 3 phase electrical input.

As of this writing, this capacity slicing and strip cutting machine is in-stock in excellent, refurbished condition , available for immediate shipment.

CALL 315-589-4511 to confirm availability and discuss your food process fruit and vegetable slicing and strip cutting needs.

ALARD item reference #: Y5435