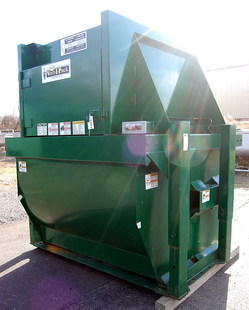 SELF-CONTAINED COMPACTOR. Marathon Vert-I-Pack (VIP) COMPACTOR / CONTAINER, with 6 cubic yard capacity (4.6 cubic meter) container (6 foot by 6 foot by 4 feet deep). Manufacturer rated for more than 13 tons (11,975 kg) of compacting force, with a 30 second cycle time. Cycles automatically when the user closes and locks the access door.
The trash-compactor is fed and unloaded on the wide sides, and has bolt-on container stops making it easily reversible for front or rear feed and front or rear load. As configured it has a 46 inch wide by 23.5 inch high hinged user door on the front, where trash is emptied into the container. On the rear side, container is accessed to slide out and be unloaded by the garbage truck. Manufacturer literature states that a front-loader garbage truck can attach and empty the container in less than 90 seconds. The container has no side openings, so waste materials can't leak or spill. The location of the ram above the refuse prevents trash and liquids from collecting behind the blade.
Includes an operator control panel with key lockout, with an integrated 3HP 208 / 230 volt 3 phase hydraulic power unit. An integral TRIPLE-SAFETY-INTERLOCK system safeguards the operation of the compactor, preventing the door from being opened except when the unit is in the proper feeding position, preventing the vertical compactor from cycling when the door is in the open position, and preventing the unit from functioning when the container is not in the proper position. Comes complete with integrated driver light which signals the driver that the container is okay to be removed and dumped.
Never having been put into operation by it's previous owner, this garbage compactor is, as of this writing, in stock at Alard, in very little used and excellent operational condition, available for timely shipment, with manufacturer manual included.
Alard item reference #:Y2054