CVP VACUUM / GAS-FLUSH BAG SEALER, Model A-300, 32 inch seal bar...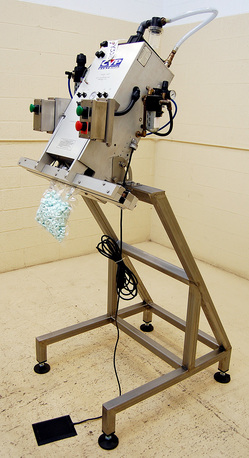 CVP A300 Fresh Vac food grade dual-snorkel jaw type bag sealing machine, manufacturer rated for modified atmosphere packaging of food products, including vegetables, poultry, beef, pork, lamb, sausage, fish, cheese, for extended shelf life.


32 inch seal bars.


DOUBLE SEAL configured for two line sealing (2) lines of 1/8 inch sealing (in other words, 1/8 inch double seal).


(2) 1.5 inch wide vac/flush snorkels on 7 inch centers.


Pneumatic-activated sealing bars with two-hand and footpad safety sealing-jaw activation.


Integrated operator controls for gas, vacuum, seal temperature, and cooling time.


PIAB pneumatic operated vacuum pump.


Food grade USDA sanitary, aluminum and stainless steel.


New adjustable height, adjustable angle all stainless steel support frame / stand.



110 volt single phase (standard household current) electrical input.

As of this writing, this CVP Freshvac modified atmosphere bag sealer is in stock at Alard, refurbished to EXCELLENT / LIKE NEW operational, pneumatic, electrical, mechanical and cosmetic condition, available for immediate shipment.

Alard item reference #: Y3313