FOOD PROCESS METAL DETECTOR with conveyor, 20 x 9 opening, all stainless steel...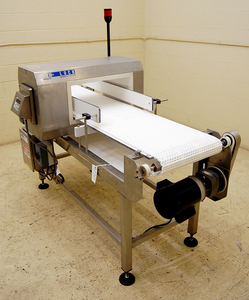 LOCK MET 30+ UNIVERSAL MULTI-FREQUENCY Stainless Steel DIGITAL METAL DETECTOR with THROUGH CONVEYOR and...


8.5 inch high by 19.75 wide usable aperture opening in the Lock Model

Met30+IP65-3F all stainless steel search head enclosure.


Mounted on a 6 foot long by 18 inch wide stainless steel conveyor, with an interlocking link type belt running over a washdown anti-static bed, running at a 34 inch working height on a tubular stainless steel conveyor frame on +/- 2 inches-height-adjustable threaded-rod feet.


4.5 inch high adjustable anti-static guide rails over the conveyor belt.


The metal detector and conveyor are integrated with a belt-stop alarm reject system with a beacon.


Left to right product flow from the perspective of the operator controls position.


1/2 HP wash down conveyor belt drive motor.


110 volt (standard household current) single phase electrical input for all components.


Washdown system configuration with NEMA4 / IP65 wash down sealed metal detection head enclosure, wash-down conveyor body and wash down motor.


Digital operator controls with 100 product presets.


Multiple frequency levels allow maximum versatility in fine tuning for optimal sensitivity across a wide range of products /product types (wet, dry, salty, etc).


Sensitivity varies depending on product run, especially where wet, salty, or acidic products that are electrically conductive introduce "product effect" into the equation, however the manufacturer rates dry sensitivity for this head at 1.8mm ferrous, 2mm non ferrous, and 2.7mm stainless steel at 300 kHz.


Late model, we originally sold new in 2013. As of this writing, this metal detection system is in stock at Alard, in EXCELLENT operational, electrical, mechanical, and cosmetic condition, available for immediate shipment.

Alard item reference #: Y2968